ghost monkey: tea for miss yamaha (a polyfonken production)
Here are the mp3:s in "glorious 120 bps". I could've made them hi-fier but ... uh .. well ... they are digital. as in inferior to vinyl. feel that. CLICK HERE TO DOWNLOAD THE WHOLE ALBUM
We'll start off with the Second Coffee Nimbus which tells us about life in the northern hemisphere. Just turn on the tube on an empty channel and imagine you've got a video to go with all of these.
Second, let's enter Blues for freaks. In this church the things have truly gone to hell. The tentacles of sin (lubricated for her pleasure) are all around.
Third, if my memory serves me, is the part where Monkey Wards off the Juju. This epic tale follows the monkey through bad times of me playing a melodica. Finally there's redemption and lurve.
Fourth, and a closer to the first side of my beautiful vinyl, is Mountain of Glue. Oh yes.
Second side begins with Vahinja which is a story about a country that turns against it's own citizens. This always leads to peace & prosperity.
Then we have Assasins, a story about time travel, love, a nemesis and all that. I'm still quite proud of this bastard, really.
Kryla Jam explores the slowed down disco territory. Jam is the stuff you put on a toast if you want it to rock like a rocking chair.
Halla, the closer, tells us a story about human relations using the frost-bitten landscape of autumny north as a metaphore. Or so I say but then again I'm making these notes up as I go...
This record was produced, mixed, played and discarded by Polyfonken with Dj Holik on turntables, Anna vocalising, KrushingFunkLords on the flute, Evill as the sampled beatbox and a lot of (mostly dead) musicians contributing without permission.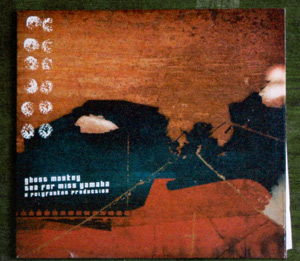 "Ghost Monkey: Tea for Miss Yamaha" vinyls exist but are heavy as fuck and cost a bit to send. doh. Obviously. Cd:s don't but i can make it happen if you give me a good excuse. or then you could just donate me some money and feel good about downloading the mp3s.
Contact the evil bastard at t@polyfonken.com if you need another fix or want me to design Fabulous Record Covers and remix your multi-giga-platinum selling tune that rips off de la soul:s ring ring ring. Or if you want to release his next album
lots of love and thanks for listening
t..as polyfonken